Feedback-android
From sselab
Android Client for the Feedback-System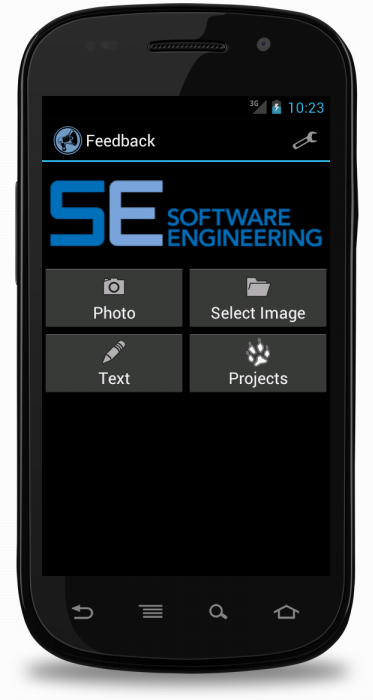 Feedback for Android helps app developers gather end user opinion in a simple and straightforward manner. Providing your users with a very easy way to communicate their ideas, comment on a feature or report bugs. With project management system such as Trac let you trace user feedbacks through your development process.
Features
Simple positive or negative feedback
Extended feedback allows screenshots, photos or any images
Stand-Alone and Integrated mode using Intent
Integrated into your software development environment
Usage scenarios
Integrated. Call Feedback from anywhere in your app whether from menus, actions or buttons is as simple as one line of code with Android Intent framework.
Stand-Alone. Create various Feedback the way your user want using camera, select an image from the phone or just a comment.
Requirements
App Screenshots
Holo Light theme (landscape)

| | | | | |
| --- | --- | --- | --- | --- |
| | | | | |
---
This page was last modified on 22 February 2012, at 04:44.
This page has been accessed 438 times.